Print
Published:
06/07/2018
Riviera Makarska is perfect for enjoying everything summer brings along thanks to its long pebble and sand beaches and lots of sunny hours. Besides the biggest city of Makarska, little tourist towns like Brela, Baška Voda, Igrane and Tučepi are favourites in the Riviera. And especially so among families with children and everyone looking for their place under the summer sun. But Riviera Makarska also hides beautiful naturist and isolated beaches.
Take a trip to the zone of sun and sea and read about the five loveliest beaches we have picked out for you!

Nugal Beach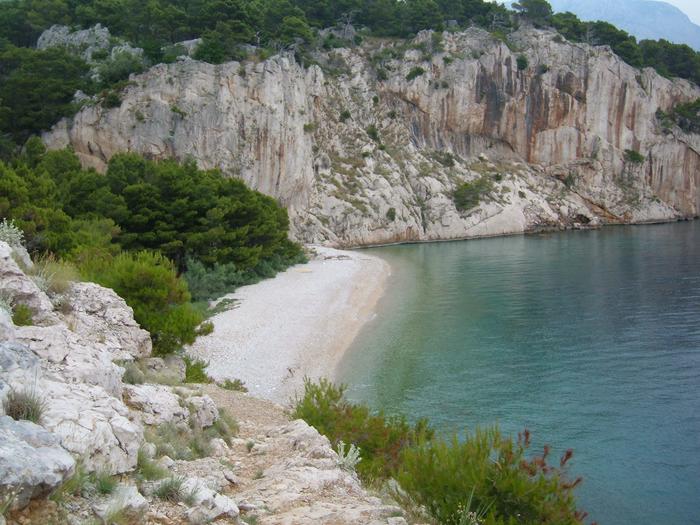 Nugal beach near Tučepi has been a popular summer destination for everyone who loves to swim without any clothes for more than 30 years. As most naturist beaches, the Nugal beach is a bit isolated. To reach it, you'll have to walk for about 30 minutes through the woods called Osejava which connects Makarska and Tučepi. Considering the bumpy terrain, we recommend not walking in flip-flops but sneakers. The beach is surrounded by tall rocks which only make it even lovelier and protect its swimmers from curious gazes. Don't forget to bring some food and drink, and put a lot of sunscreen on since there is no natural shade.


Punta Rata Beach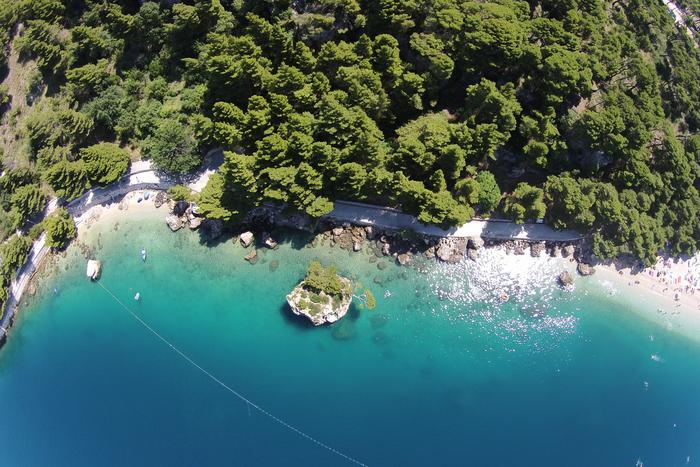 Download the guide
in English.
The most beautiful beach in Europe in 2004, Punta Rata beach is also on our loveliest beaches list. Punta Rata is a pebble beach with a sandy entrance so it's great for families with children. The beach is surrounded with tall pine trees providing nice shade and that's ideal when you wish to take a break from the sun. The beach is even lovelier because of an unusual round rock which stems from the sea and became its recognizable symbol.

There are beach bars, restaurants with fish and meat menus and you can also rent sunbeds and parasols.


Tučepi Beach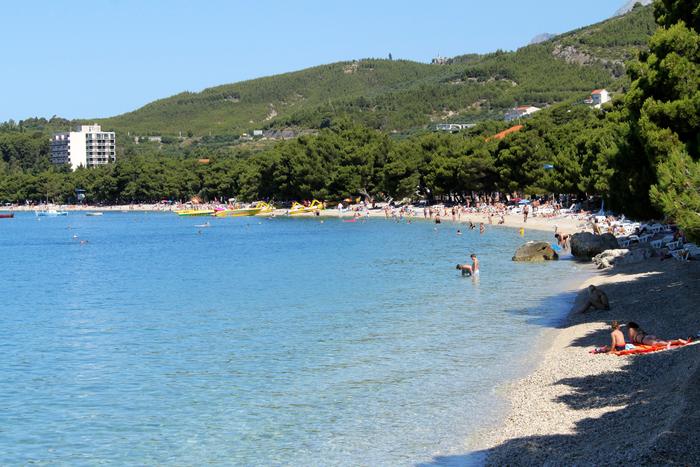 The longest beach of the Riviera Makarska is located in the tourist village of Tučepi, 7 km away from Makarska. Tučepi beach is 4 km long, and it has a board walk with pine trees. The beach is popular among families with children: it is a fine pebble beach, the trees provide deep shade, and there are lots of activities for children – pedal boats, water slides, etc. Parents can relax in one of the cafes, on rented sunbeds which are available on the beach or simply by taking a walk with kids along the boardwalk.


Nikolina Beach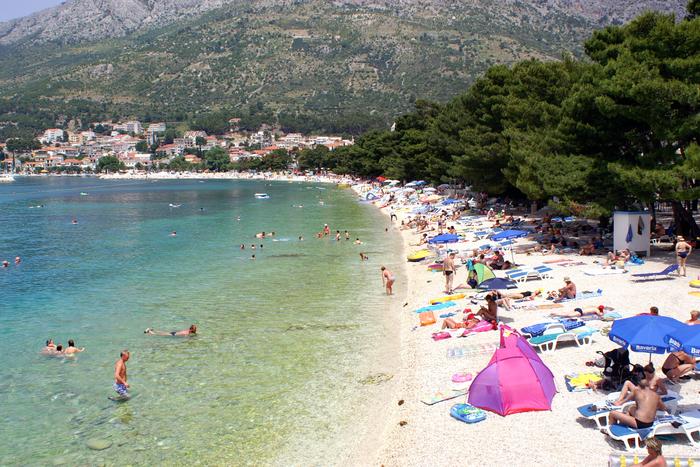 One of the most popular beaches on the Riviera Makarska is Nikolina, located in Baška Voda. It proudly showcases its blue flag – a mark of exquisite cleanliness and sea quality. It's ideal for families with children because there's a lot of things to do there – cafes, restaurants, pedal boats, renting sunbeds and parasols). A big plus is that there are two entrances into the sea for the disabled.


Donja Luka Beach
The last beach on our list is Donja Luka located in the very heart of Makarska. This popular pebble beach is a few kilometers long and popular among different types of visitors. There are a lot of things to do on this beach and lots of ways to keep the kids and youngsters busy all day – pedal boats, water slides, bungee jumping. After having fun in the sea, the visitors can hide away from the sun under the nice smelling pine trees. Besides fun amenities, there are toilets, showers, restaurants and a cafe on the beach. It has an entrance for the disabled as well.

Where to stay in Makarska?
• houses and apartments for a peaceful stay
• 3-bedroom apartments
• affordable houses with sea view
• apartments and houses 200 m away from the sea