Print
Published:
05/07/2021
With July coming and its extremely high temperatures, the only thing we think about most of the time is how to get away from everyday stress and find our "place under the sun". Choosing a destination is a priority, as well as compiling a bucket list of what we want to do, how much are we willing to spend, and which accommodation type are we looking for. However, if you are travelling with your pet this summer, a good preparation and a shortlist of potential destinations is key.

Today, the number of pet-friendly accommodation, restaurants and bars, destinations, including beaches, is rising as we speak. Even on the most popular destinations, you can see dogs enjoying in the water and extreme beauty having the time of their lives. Also, many Croatian beaches today have separate pet-friendly pebble or sandy beach areas so don't worry, this summer you can take your furry friend into the adventure of the unknown!

Times when you had to leave your pets with family, friends, or in a specialized pet-friendly hotel are way behind us and you can start planning your vacation on the Croatian coast immeditately. Regions on the Croatian coast like Dalmatia, Istra and Kvarner are quickly adjusting and creating a wide range of pet-friendly oriented content so, no matter where you decide to travel, your dog will have the time of his life!
 
Before you decide where to go this summer and start choosing your ideal accommodation, you need to think about how your vacation is going to look like. Here are a few things you might consider:



Which animal is suitable for a long-distance vacation?

When we talk about a pet-friendly summer vacation, most of the time we think about dogs, our best friends. But, there are a lot of travelers who would like to travel with their their cat or a parrot. Therefore, it is good to think about how your pet is going to react to new surroundings and climate.

It is safe to say that adult dogs are the ideal co-passenger with whom you shouldn't have any problems. Cats are very territorial, while parrots need company. So, if you have a pet who gets scared easily and has a hard time adjusting, perhaps this journey isn't for her or him. Also, think about how your pet will need bathroom stops and a couple of run-outs on the way. Choose accommodation with a yard so your pets can play and be careful about how much water they drink, or if they have sun and insect protection. Finally, let them decide for themself if they like the water or not.

Before departure, you should test your animal in conditions similar to those at the destination. If they are scared, leave them with someone you can trust and make sure nothing is missing so it's easier for them to adapt to a period in which they won't see you.

The accommodation offer in Croatia today is made to satisfy your needs so if the place of your choice is pet-friendly it should be clear at the beginning. Pet-friendly hotel is a common thing in Croatia, but most of them have strict rules of behavior. As mentioned earlier, don't forget to bring your sun cream, food, toys and all the other necessities so they can adapt quickly in a new environment. Take your dog for walks on a regular basis, avoid the high sun and areas with a lot of insects and, if possible, avoid crowded beaches.


Pet transport

The simplest and most often used way of transportation is by car. Your own vehicle is a familiar surrounding to your pet. Before traveling, create conditions similar to long trips and watch her or his reaction. During border crossing, you will have to show the Internation veterinarian certificate of health and vaccination, check the vaccination list, register if the animal is chipped and check which animals are allowed to cross. Other details can be found on the official Government web page, with further details and conditions on how to get the aforementioned Certificate. Don't forget to check terms and conditions for your pet's mandatory passport!

If your pet handles the trip well, the last thing to think about is to take enough food, water, but also medication if the animal starts panicking. Make sure they are cozy and safe and don't forget to stop enough times!

If you are heading to Croatia by plane, your pet will travel either with you or in a locked-up space far away from the passenger section depending on its size and official regulations. Make sure to test them if you're thinking of using an airline for your trip.

In trains, it's possible to transport small pets and 30 centimeters tall dogs. It is completely free of charge! For bigger animals, it is necessary to pay half of the price and the owner is financially responsible for anything that brakes during travel.

Buses are more specific. Besides small animals and guide dogs, there are small to no chances of transporting bigger animals. Most companies take in small pets, however, make sure to be well informed before buying a ticket.

It is possible to travel with pets using ferry lines if they are protected or in a cage. Transport for them is free though some inner parts of the ship are restricted.


Last preparations before the beach!

After your hard work is done and you've chosen accommodation and a summer destination, it is finally time for that beach. Bear in mind that your pet has got its own needs, just like yourself!

When on the beach, make sure to bring sunscreen, something against insect bites, skin and paw protection, prefer shades over high sun, prepare enough water and food and let them decide if they will go for a swim. Additionally, don't forget that pets are forbidden to swim on beaches with blue flags.

Before going out, try to assume how your dog or pet will behave on the beach. If he is going to bark and have a bad reaction, then you might have a better time going somewhere isolated. Also, if you get some awkward looks or have any discomfort, just leave and find beaches with pet-friendly signs and all the needed amenities like showers and waste bags.

It is good to mention that all the Croatian beaches are public and you can enjoy them for free. Also, it is allowed to swim with your dogs on the beaches that are natural and wild, or don't have a "No pets allowed" sign.

As a top tourist destination, Croatia recognized the importance of pet-friendly vacations and leisure a long time ago. That is what makes Croatia an ideal choice for a pet-friendly vacation! Most of them are located in the North Adriatic, and in Dalmatia, their number is getting bigger every day. So, you can start planning right away, no matter if you are coming on two or four legs in Croatia!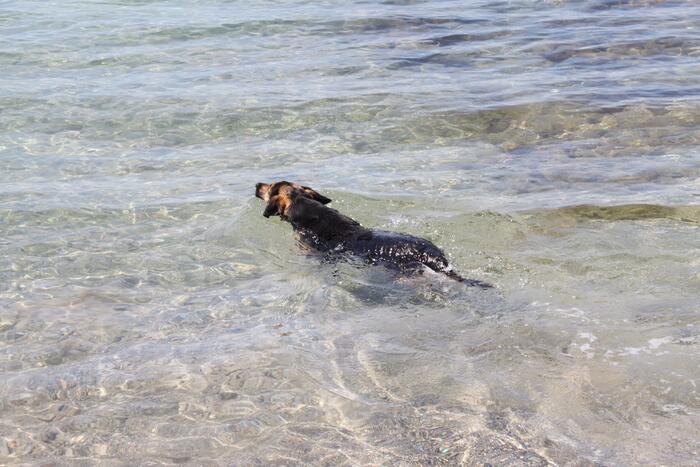 List of pet-friendly Croatian beaches

A region with the highest number of dog beaches is Kvarner that has become the top dog-friendly destination in Croatia! Just on the island of Lošinj, you can find eight dog-friendly beaches which is a national record and a true doggy-dog paradise! On the islands of Krk and Cres are located three beaches, in Opatija, there are two of them, just like in Crikvenica. Although there are a lot of top beach destinations, we have separated a couple of the best ones to make your job easier because everyone of these beaches is a fantastic location that are an excellent choice to enjoy the summer with your furry four-legged friend!



Podvorska beach, Crikvenica

The most famous and furnished dog beach in Croatia, but probably in the world is the Podvorska beach in the excellent location of Crikvenica. This doggy-dog paradise beach has been announced as the world's most equipped beach for dogs in the world by the New York Post, as well as many other famous world and European magazines!


Once you arrive, it becomes clear why this beach carries that title. Besides being equipped with basic amenities like showers, waste bins, natural shade, public parking, and a place to leave your towel, on the Podvorska beach you can find the first all-inclusive dog restaurant in Croatia. Yes, you read it well: your best friend can now enjoy doggy beer, chips, cookies and have total relaxation in his new surrounding. You never know, he may even find new friends! Besides in Crikvenica, the same object is open in the city of Rab on the same-named island!



Duilovo and Kašjuni beach - Split

The second biggest city in Croatia and one of the top tourist destinations, the city of Split, has adjusted to new traveling trends in the last year and has opened numerous dog beaches that can be found on almost every part of the town in the coastal area. On the Marjan peninsula, your doggy friend can swim in the beautiful clean sea on each of the unmarked beaches, while there is a complete dog beach as part of the large Kašjuni beach on the Western parts of Marjan.


A modernly decorated and equipped beach is the Duilovo beach located in Pazdigrad on the Eastern coast of Split called Žnjan. It is a new, modern beach with all the needed necessities from showers, changing rooms, waste cans, and even tents for sun protection. That is the reason why many locals, but also tourists from all around the world like coming to Split! Unfortunately, there aren't dog restaurants or bars, so you will have to bring your food and drinks just to be safe.


Beach Punta Šilo and Vela beach in Baška - Krk island

Our biggest and most inhabited island on the Adriatic coast, the island of Krk, can be proud of its number of doggy beaches. Krk is, with Lošinj, and the rest of the North Adriatic considered to be the top dog-friendly destination in Croatia. There are 6 dog beaches including Readgara, Vela plaža in Baška, Kljak in Njivice, Mala Javna, Punta Šilo, and the Soline bay which are pebble beaches with the shallow sea you can easily find, and offer natural shade.

The Punta Šilo beach is located in the coastal village called Šilo near the scuba-diving center Neptun. It is a pebble, easily accessible beach with pet-friendly hosts and locals. Besides that, it has a modern parking space so you can arrive to it by vehicle.

Vela plaža in Baška is of the most famous Croatian beaches known for extreme beauty. . This beach carries the Blue flag title because of its sea and environmental purity and is considered to be one of the best family vacation beaches because of its shallow and warm sea, and modern equipment. The beach with its 1.8 kilometers long coastline can fit up to thousands of swimmers and has a specialized fenced area where your pet enjoy all the amenities of the beautiful sea and beaches.




Doggy beaches in Zadar

In Dalmatia, the number of pet-friendly beaches is increasing every summer, as well as the social awareness towards letting animals enjoy the best summertime on one of many public beaches with all the others. One of the destinations that put North Dalmatia on the "dog-friendly map" is Zadar with a large number of top-quality modern dog beaches like the ones in Privlaka, or Zaton Mali.

In Zaton Mali, place located a 20 minutes away from Zadar, there is true pet heaven - beach in the tourist resort Zaton Holiday that sets the bar high when it comes to the quality of the offer. In the Resort, there is a special, isolated dog beach with amenities you need to enjoy the summer life with your best friend. So enjoy the sun, sea and extreme beauty of the Zadar Riviera!

At another popular tourist destination, Privlaka, there is also a dog beach you can enjoy the time of your life at one of the most famous tourist destinations in North Dalmatia.

Besides the mentioned beaches, in Zadar, you can take your dog for a swim on the Foša beach, or visit the neighboring city of Šibenik that has dog-friendly beaches and many historical monuments you can visit. One of them is the pebble beach By the old school located in the city center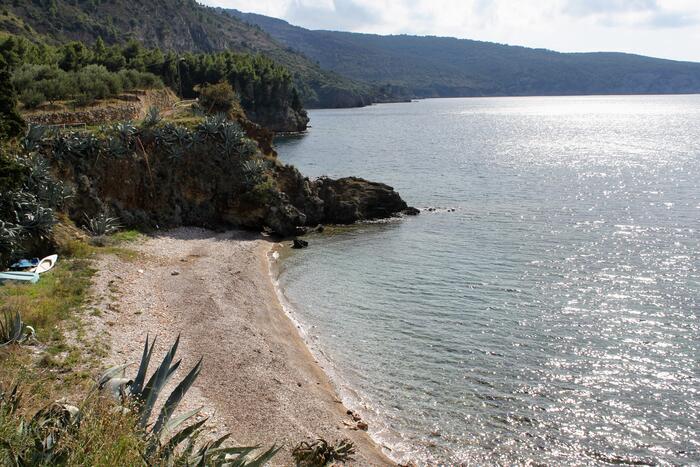 Prematura and Portić – Istria

As a destination with a centuries-old tradition of tourism that is constantly adapting to new content and trends, Istria is today positioned as a pet-friendly destination ideal for animal lovers with many dog beaches located in the perfect spot in the excellent location. Medulin, Pula, Poreč, Rovinj, Umag, Vrsar, and Labin are just some of the cities where you can take your dog for a swim almost anywhere.

One of the most beautiful beaches we recommend visiting is Prematura on the south of our biggest Penninsula. Located in the protected area of the Kamenjak cove, this beach has a special entrance for you and your pet. Here you can enjoy the beautiful view of the Adriatic sea, extreme beauty of the surrounding area with the smell of Mediterranean pine forest and a rich culinary experience for the both of you.

One of the top decorated and clean beaches is Portić in a place called Peroj. It is a beautiful beach provided with showers your pet can drink on, umbrellas, and fenced areas to hide from the sun and heat. From the beach, you can take a relaxing 2,5 kilometers long walk to Fažane that offers many events, daily activities, and happenings during summertime. Besides the mentioned beach, a nice dog-friendly destination is the pitoresce city of Rovinj with a couple of beaches for dogs and pets.



Croatia - pet-friendly destination in 2021!


When you take a look at the whole list, it is easy to conclude that Croatia is a real pet-friendly destination where you can enjoy yourself with your furry pet without a care in the world. And it doesn't matter which part of the Adriatic coast you choose, because every part of it represents an example of untouched natural beauty and a pet-friendly destination! There is no fear of awkward looks or inconvenience because you and your pets are welcome this summer season. Besides the beaches, on most of them, you will find all the needed accessories like showers, trash cans, and other necessities.

It is good to mention that all the public undecorated, or "wild" beaches are available for usage, while on the blue flag ones, you are not allowed to bring your pet. The list of all beaches in Croatia we reveal in the next paragraph, and the locations of them you can find on the specialized dog-friendly beaches map. All the needed information and details can be seen on various informative web pages to prepare yourself for a dream vacation in Croatia in 2021!

You can recognize if the beach is dog-friendly by a circled sign with a picture of the dog in it, or by the official flag of dog beach that consists of a dog bone on a blue-green-yellow background. We hope that you found this article informative and that it helped you get all the needed pieces of information if you are thinking of coming to Croatia. Now is the time to choose accommodation, discover Croatia's natural beauty, and in our rich offer of exclusive accommodation units with special and exclusive offers you will find something for you and your best friend to have an ideal vacation this summer!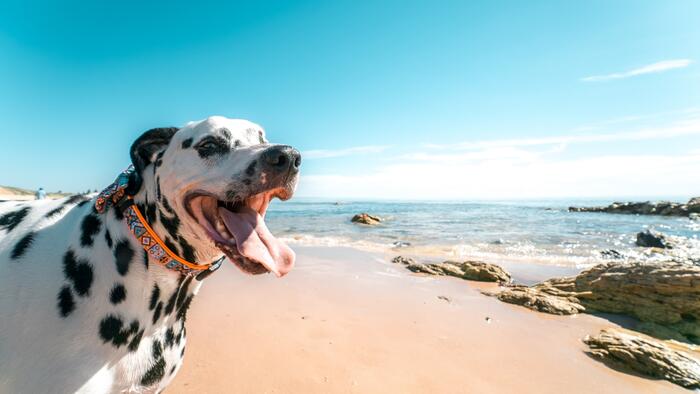 List of pet-friendly beaches by the regions

Kvarner
 
Crikvenica - Podvorska beach and Mala draga bay

Krk - Readgara, Vela plaža in Baška, Kljak in Njivice, Mala Javna, Punta Šilo, Soline bay

Opatija - Punta kolova, beach under Villa Frapart

Rijeka -Kantrida beach, Brajdica beach, Mikulova kava in Kostrena

Rab -Beach Mel in Kampor,Dumići in Supetarska Draga, Škver, Artić

Lošinj -Susak, Ilovik, Unije, Veli Lošinj, Nerezine, Artatore, Mali Lošinj, Čikat

Cres - Beach in camp Kovačine, beach by the ACI marine

Pag -Plat, Babe, Braničevica, Vlašići, Vrtić

Istra

In Medulin and Pula is allowed to take your pet to the beach between 20:00 and 8 in the mourning at every beach until the 5th of September

Poreč– Stari Červar, Blue Moon, part of the beach in the bay of the camp Bijela, the beach of the "Istra" camp, beach in the Tourist resort

Novigrad –beach in Camp Sirena, Aminess Laguna, Amines Maravea

Labin and Rabac - all the beaches without the Blue flag

Pula – dog beach Veruda, Galebove Stijene, Štinjaska vala, Hidrobaza beach, Verudela

Umag – part of the camp in Sol Polinezija. Stella Maris, part of the beach next to the Park Umag camp, camp Finida, camp Kanegra

Vrsar – Camps: Portosole, Valkanela, Koversada

Rovinj – Bays: Lone, Cuvi, Kaštelan, Veštar, Cisterna

Rabac – Girandella


Dalmacija

Vis – Komiža

Split - Duilovo beach, North-West part of Kašjuni beach, Kvadar on Žnjan, Trstenik, Pazdigrad, but after 20:00

Dubrovnik - Slano beach

Pag – Camp Straško

Trogir– Seget Vranjica

Brač – specialized dog beach on Bol, right before Zlatni Rat, Zastup beach

Hvar – part of the Zaraće beach

Murter – Podvrške next to Murter

Vodice – Bristak beach, Srima beach, in front of the Old school beach

Omiš – Borak-Brzet

Makarska -Cvitačka

Korčula – Plitvine