Print
Uverejnené:
1.7.2021
Although Croatia is known as a destination that is much more than sea, sun, and beaches, the thing that attracts millions of guests every year is the aforementioned comparative advantages. Because with more than 5835 kilometers of the Croatian coast, this country has one of the most invented coastlines on the Adriatic. Besides that, with more than 1200 islands, cities with over 180 sunny days and 2000 sunny hours in a year, 100 beaches with the blue flags represent the ideal summer destination with a wide range of offers such as Mediterranean climate, beautiful weather, and enjoyment in the untouched natural surroundings! A visit to just one national park of seven in total will make you fall in love with Croatia at first sight!


Blue Flag destination


If you want to know that a specific tourist destination has clean sea and crystal clear beaches, you should check the number of the blue flags beaches in the country. It is a special recognition for high sea and beach quality and pureness, the preserved eco-system, flora, fauna in the sea, and the land. It is awarded every year, so every destination has to keep that top quality until next summer season if they want to keep it.

Of 4800 blue flag beaches, over a hundred of them are Croatian beaches. This amenity is awarded every year, so it is needed to achieve the high standards and then preserve it next year. There is a friendly competition between the locals who try to keep that privilege in Croatia, bringing hundreds of thousands of guests every year. Also, a positive consequence is that the Croatian coast has a clean and protected environment every year. Most of them are located on the shores of Istria and Kvarner, while the whole list can be seen on the official Blue Flag website.

Croatia can be proud of its beautiful, untouched, and natural beaches of different categories. From the sandy to the pebble and rocky ones, naturistic or the pet-friendly beaches, you will find your little piece of heaven for a relaxing holiday on the Croatian coast. That is a guarantee! The clean beaches result from special care by the state and its locals of their surrounding eco-system in which they live and the biodiversity that exists in the nearby area.

All the above is just a part of the wide range of top tourist offers and services created and expanded in Croatia during the last decades. Because taking care of the environment means taking care of your guests. That is why they are coming back every year, while the new ones keep on coming!

Besides the popular destinations like Dubrovnik, Hvar, Rab, Opatija, Rovinj, or Split, more and more guests are coming to the Croatian coast to discover the unexplored beaches and true nature locations heaven on Earth.


Rocky or pebble ones? Looking for peace or a non-stop party? Croatian beaches are for everyone!

For the best things in the world you have to work hard or at least pay good money for it, you will agree? Well, that isn't the case with Croatian beaches. On that beautiful pieces of nature, you can enjoy free! Private beach in Croatia is a rarity because most of the beaches in Croatia are public, so you can come any time you want and leave your towel carefree and enjoy the sea and sun as much as you want. Thanks to good organization, without any problem you will find your "place underneath the sun" and relax in the summer activities, peace, and quiet.


Most of the beaches in Croatia are easily accessible and available for everyone. However, some of them are entirely isolated, and you will have to take a ferry ride to come to them. Besides that, they are completely untouched so you will have to bring your food and water. On the other hand, sandy beaches like the most famous one, the Bačvice beach in Split, are ideal for families with children and offer paragliding, windsurfing, zipline, rafting, beach volleyball, handball, and even football! Besides that, in Split, you will get to meet the protected autochthonous water game called picigin or take a swim in the beautiful pebble Kašjuni beach. This dynamic and attractive sport will make you try it for yourself. Or at least, to be the biggest fan of it!


You can completely adjust the beach choice to your interest and wishes, making it your private beach. For example, suppose you are looking for the all-day relaxation and rich offer of restaurants, coffee shops, and the best gastronomy offer. Then the choice of well-known destinations like Makarska, Rab, or Pelješac is ideal for you. But, on the other hand, beaches on the Hvar island or the island of Pag are the right party destinations where the party never stops and a good time is guaranteed!

Although a list of the top 10 hidden beaches in Croatia was tough to narrow down, these are our recommendations for an unforgettable summer in Croatia. Some of them you already know and are your "guilty pleasure" for years, and for many, you will hear for the first time. But, every one of these natural attractions will leave you breathless and create an unforgettable experience you will cherish for a lifetime! From the tropical bays, stunning "Robinson Crusoe" style of reefs looking like the ones from SF movies, over to the beaches that transform every night into the biggest summer stage, every one of them tells the story of their area, rich cultural heritage, and vegetation that will make you come again next year!



Top 10 hidden beaches in Croatia!

1. Stiniva – Island of Vis


 
This beautiful hidden cove is located on the most distant inhabited island in Croatia, the island of Vis. This island is famous for its unique history, which trails can be seen in the architecture and the mentality of the people. Every place is its story, and the most beautiful one is written in the Stiniva bay, located in the untouched and hardly-reachable parts of the island.


You can come to Stiniva bay by ship or car to a couple of kilometers away from where you will have to walk for about 20 minutes. Although it sounds complicated, just the view of the beach and finally arriving will make you think it was worth it. Located underneath a mountain range, surrounded by untouched greenland and so pure sea that creates every variant of blue color will make you ask yourself: is this real?

Stiniva looks like a real movie set where a little land is protected and surrounded by the mountains from the open sea. Because of that, this beach was voted the most beautiful beach in the world in 2016.!

You will find an available hospitality object with food and drinks offer so you don"t have to worry if you"re looking for a one-day field trip. On the other hand, Stiniva isn't crowded with people, although it's world-known, so you will have room to leave your towel and feel like an owner of the beach!

If you are already interested and you can't wait to cool down in this beautiful bay, take a look at the offer of comfortable accommodation in the nearby beach area, so don't miss out on this heaven on earth this summer!


2. Zlatni Rat (Golden Cape) – Bol, Brač island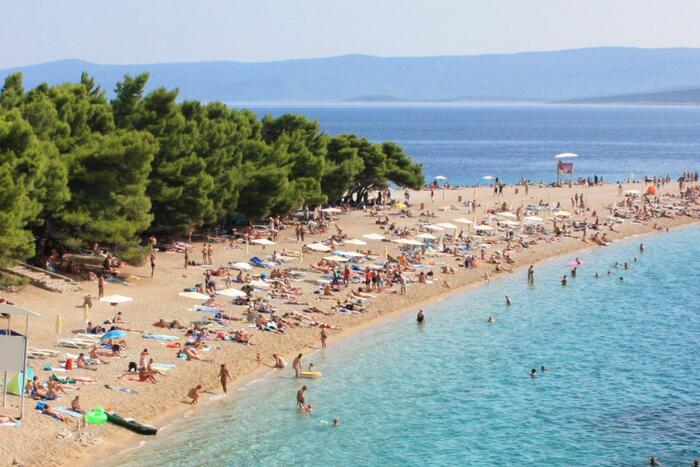 The most recognizable beach in Croatia, which pictures are on every promotional material and postcards of Croatia every summer, is the Zlatni Rat in Bol on the Brač island. But, unfortunately, this beautiful pebble beach is for over a decade too little to fit everyone who fells in love with the natural environment and the centuries-old pine forest. Although, it can fit thousands of people!


Zlatni Rat is a natural phenomenon created by gathering stones between an underwater cape that rose above sea level throughout the years, making this unbelievable cove. A fun fact about Zlatni Rat is that the beach changes its shape depending on the weather, sea currents, and wind. Not only does it change its shape, but it also changes its appearance and size because of it! It is considered that Zlatni Rat has grown in the last years!


The beach is a true windsurfer and kiteboard paradise, and all the needed equipment and the educational part can be done in the area of Zlatni Rat. But, on the other hand, a part of the beach is for the family with children where the wind never blows and is very safe and pleasant for the youngest ones.

The whole beach is a protected geomorphological reserve so make sure you leave it in the same condition you found it in! To Zlatni Rat you can come on foot, by taxi-boats or a small tourist train located 2 kilometers from the place of Bol on Brač island. To Bol, you can arrive directly by ship from Split or Makarska or to the biggest place on the island, Supetar, from a 45-minute ride to the area.

On Bol nad in the whole Brač island, just like in every other top destination, you can find a wide range of accommodation options and units designed to make sure all your wishes are fulfilled.


3. Punta Rata, Brela Makarska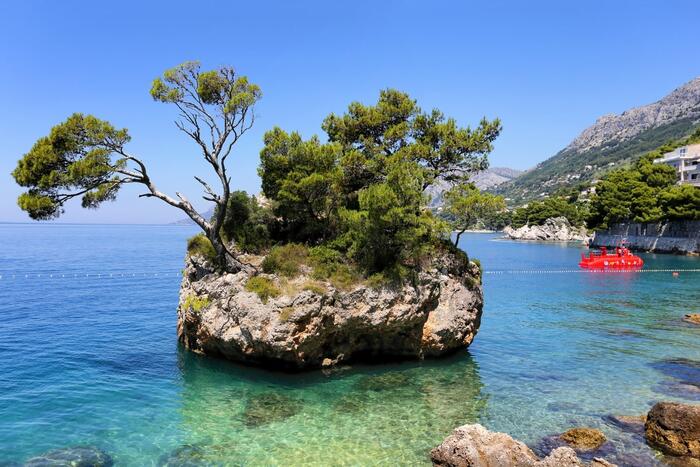 One of the most popular and oldest tourist destinations is the stunning Makarska Riviera, located in the heart of Dalmatia. Protected by the Biokovo mountain and the blue Adriatic, situated between Split and Dubrovnik, 60 kilometers long riviera is ideal for all its guests. Therefore, the list of top 10 beaches could be created by picking the beaches on the Riviera like the ones in Brela, Baška Voda, Tučepi, and Podgora visited by hundreds of thousands every year.


One of the beaches written every "best beach" list and category is the beach Punta Rata in Brela. This little place is a paradise for local and foreign guests, families, sports lovers, luxury guests, romantic couples, and solo travelers. Punta Rata is a protected area since 1964. and proudly carries and defends the "blue flag" title every year.


In 2004. Forbes magazine enlisted this beach on its top 10 world beach list, and the same was repeated by many American and European magazines afterward! The wide variety of content offered in natural beauty and untouched beaches results from real-time and adequate protection and care of the locals toward their eco-system.

The beach is located 800 meters from Brela and is just 10 minutes away from the city center. The beach is rocky and pebbly and protected by pine trees and Mediterranean plants that create a natural shade. So, there is a local saying that in Punta Rata, "your legs are in the sea, belly on the beach, and head in the shadows!"

The most famous part of the beach is the Brela Stone, a natural phenomenon that emerges from the sea and has living vegetation growing on it! This is a must-see attraction and the perfect place for a selfie.

A wide variety of apartments, rooms, houses, and luxury villas can be found every on the Riviera, so you can start planning right away!


4.Rajska plaža (Paradise beach) – otok Rab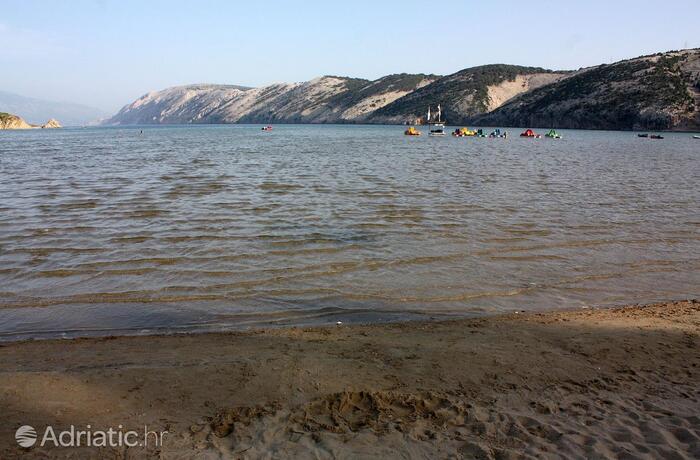 Stiahnite si sprievodcu
v angličtine
The island of Rab is located on the North Adriatic and is considered an idyllic summer destination together with its neighboring islands of Krk and Cres. It is one of the biggest Adriatic islands and fifth by population. It is filled with many monuments, cultural, sports activities, and natural attractions that it's impossible to discover everything in just one day. Besides that, Rab is famous as a party destination where the party never stops! Although, it is a destination ideal for family vacations in the same amount as adventurists, nature and history lovers, and backpackers!

Rab island is full of stunning beaches like Supetarska Draga and Lopar, but the most famous one is Paradise Beach, located in Lopar, just 12 kilometers away from Rab. You can come to the beach by ferry, car or bus.


This 1.5 kilometers long beach was enlisted by CNN as one of the world's top 100 most beautiful beaches! Paradise Beach proudly carries and defends the blue flag status. And, if you are coming to Rab in late June/early July, you should visit the Festival of sand sculptures that celebrates the 10th birthday this year!

The sea is shallow and warm, and by the natural shade of pine trees, you can enjoy yourself, while the youngest ones will carefreely enjoy the sea. Because of its purity, the beach isn't for pets, but there is a dog beach in the south part of the nearby area where you can enjoy the sun and water with your furry pet.

The island is filled with different accommodation and rich offers, and there is even an auto camp located close to the beach, while you can even find top luxury villas on the Rab island itself. There are many unique amenities for children, while we recommend Parasailing and Jetski for the older ones. Don"t forget to try out the waterslide on the beach ending, which is all-family fun!


5. Betina Špilja, Dubrovnik


Which world travelers haven't already heard of Dubrovnik? Unfortunately, there isn't a lot of them, and we assure you that! The historic city of Dubrovnik is Croatian most famous tourist destination and the proudest picture we send every summer into the world. Destination of cruisers, top category offer, unbelievable city walls on the UNESCO World Heritage Site, and a movie set for many blockbusters like Star Wars and Game of Thrones!

But, if you want to escape the standard summer crowded stress, you should visit some of the beautiful and untouched beaches this area is full of. The fascinating thing is the cleanliness of the beaches even though a large number of travelers and tourists come every year. So, keep on that tradition and enjoy the Dubrovnik coastal area!


One of those beaches that offers complete relaxation and leisure is the Betina Cave near Dubrovnik. But, unfortunately, you can't come to it on foot or by car, but only by ship, water-taxies, swimming or canoeing from the surrounding beaches. Because of that, on the beach, you won"t find a lot of people, but there are many attractions to explore and activities to enjoy on your one-day cave exploring trip!
The cave got its name in honor of Marin Getaldić, our famous scientist nicknamed Beta. It is ideal for visiting in the afternoon when the perfect natural shade is created, ideal for escaping the big temperatures. Here you will feel completely isolated, re-charge, and discover the underwater cave world located in the surroundings of the most famous tourist destination in Croatia. For more details, check our accommodation offer in Dubrovnik and its surroundings.


6. Queen's beach in Nin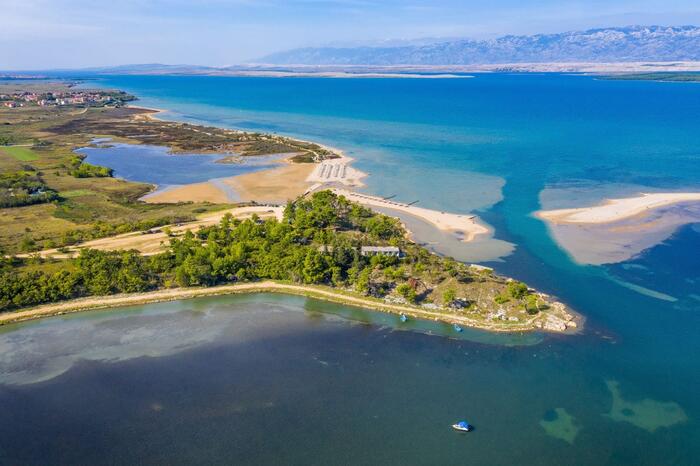 In the North Dalmatia area is located one of the oldest Croatian cities. In this city, Croatian kings were coronated, which is now a famous tourist destination - the town of Nin. In this place, you will find the statue of Gregory from Nin, the same one as in Split. Unfortunately, after photographing it, you have to pull his thumb for good luck. But, besides that, Nin is famous for its 8 kilometers long coastal riviera, where you can find beaches like Ždrijac, Prodorica, and Zaton Holiday Resort with the blue flag recognition.

The most famous one is the longest sandy beach in Croatia, the 3 kilometers long Queen's beach in Nin. It is considered a top world beach located just 10 minutes of walking distance from the city center on which you can find a parking zone. Thanks to the protection by the Velebit mountain, the climate and sea are warm in Nin, and the wind refreshing what makes this destination the top choice by kitesurfers.

Queens beach doesn't carry this name with no sense. According to the local tale, the beach's name was given by the wife of the first Croatian king Tomislav, who chose this beach as his summer destination. So, this beach is also one of the heritage sites, and it doesn't surprise you to find the Queens Jelena resort, known for healing mud and medicinal tourism older than 60 years old.

On your way to this beautiful sandy beach, you will have to walk through small shallow, and little wooden paths that will take you back to the times of king Tomislav. But, when you arrive, you will realize that it is worth that effort! Different activities and amenities for the children, families, and every other guest make this beach a top destination during your summertime in Croatia.

In the area of the Queen's beach and the nearby area, you can find a wide variety of accommodation units with low prices and action discounts you shouldn't miss out on!



7. Zrće beach, Novalja

 
The island of Pag is located on the border between Kvarner and North Dalmatia. It is considered the number one party destination in Croatia for more than 20 years. And mostly thanks to the Zrće beach located 2,5 kilometers southeast from the place called Novalja. This "Croatian Ibiza" carries the "blue flower" title since 2002. as the most beautiful and decorated Croatian beach, over 18 years proudly has a blue flag from the European association for environment and education! That proves to show that partying and ecological awareness go hand to hand!

Zrće beach is 750 meters long pebble beach with no shade. It can fit up to 4000 swimmers and overs different activities during the day. There you can enjoy water-skiing, Jet skies, water slides, but also bungee jumping, and flyboarding activities. Although a party destination, this beach is a favorite for many families with children, exclusively during morning hours.

After 16:00 starts the party time on Zrće that lasts until the mourning, especially during festival season. Then tens of thousands of young party lovers worldwide come to this Croatian island, while young and prospective DJs try to make their remark and become famous on the biggest summer stage in Croatia!

Visiting some of the festivals like Sonus, Hideout, Fresh Island, and Barracuda guarantees top fun and relaxation. The offer of accommodation is, of course, rich, and we have already put you in that party atmosphere; take a look at the Adriatic.hr has to offer!



8. Neretva bay - Komin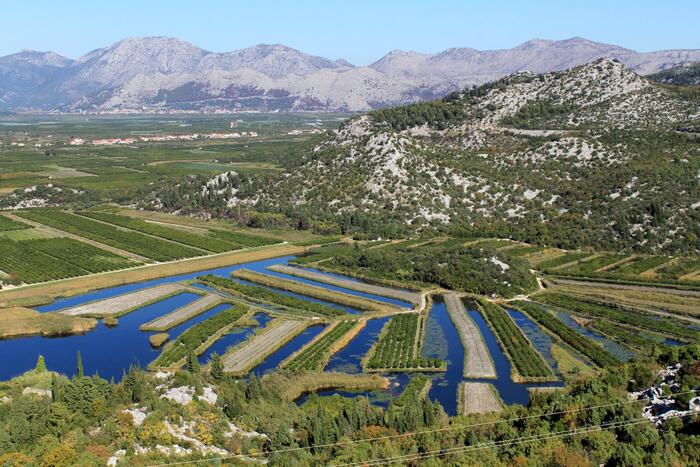 Who says that the most beautiful beaches are only on the Adriatic and are exclusively sea ones? The following location offers rich biodiversity, an idyllic family atmosphere, diverse gastronomy offer, and a wide variety of sports and recreational activities. The Neretva bay is an area in South Dalmatia that is considered one of the most fertile areas in Europe, where traces of life have been noted since the Antic times.


100 kilometers away from Dubrovnik, on 20 000 square feet surface s located the most preserved natural swamp area in Europe. This agricultural area is full of larger holiday parks and getting more popular as years go by thanks to its beauty and beautiful nature. It will offer you peace and relaxation far away from classic tourist attractions. But, if you want to visit them, they are in the palm of your hand just a couple of kilometers away!


This area is where the river Neretva is poring into the Adriatic sea and is shallow and warm, making it ideal for families. Also, in this area, many different fruit and vegetable cultures are grown, especially tangerine, a fruit that made Neretva bay famous with more than 1,5 million trees. Don't forget to try out authentic dishes like frogs, eels, and wild animals meat. Also, treat yourself to the best wine, natural juices, and "rakija."

One of the unexplored pearls in Neretva bay is the small place of Komin, with the stunning sandy beaches ideal for kitesurfing. This area is perfect for this sport thanks to the local winds, maestral, and tramuntana that breeze the temperature and create idyllic conditions for kitesurfing. If you are a beginner, very thoughtful and patient instructors will teach you the arts and crafts in two to three days!

During your stay, you can"t miss out on the Baćina lakes. This natural phenomenon consists of 7 overflowing lakes underneath the sea surface, where the water is refreshing and rich with wildlife you can see while driving through the area.

If you are lucky, you can visit the Arc Marathon and book accommodation in Neretva bay today!



9. Sakarun beach, Dugi Otok

If you want to visit the Adriatic coast, but feel like you are in the Bahamas, then Sakarun beach on the Dugi Otok island is something you have to visit. The sea on the beach is so pure you can see through it, while the vegetation and animal life around you and have a carefree swim that seems like it is made just for you!

Located in the Northwest of Dugi Otok, this pebble beach is 800 meters long and just a few meters wide, and during the season will secure you a small piece of heaven just for you. Although located on the open sea, the beach is protected by the same-named bay that ensures the sea is clean and shallow. So it"s the perfect family destination, but also for young travelers looking for new, unexplored locations.

Small white sand, turquoise color mixed with different blue shades in the deeper sea areas create a pitoresce picture that is the perfect anti-stress therapy. Because of its biodiversity, this area has been recognized as a place of natural protection, with only 10 parasols as the only proof that a human leg ever stepped on this beautiful beach. Saharun is a part of a club of the most beautiful bays in the world. On that elite list, you can find beaches from just 25 other countries!

Close to Veli Rat and nature-park Telašćica, this eco-friendly beach is ideal for romantic couples and surfers. You can come to the beach by tourist train, bicycle, a car with a small stroll, or by ferry lines from Zadar or Petrčane.

The longest island of middle Dalmatia offers so much it is just a must-see destination for a peaceful and quiet holiday in Croatia. On Dugi Otok island, you should visit the nature-park Telašćica, a natural phenomenon that offers a combination of lakes, sea, and islands that are going to leave you breathless. The island that looks like a panel left in the middle of the sea offers an incredible mixture of a salty lake surrounded by the sea and islands. Also, one of the island visitors are the friendly dolphins who you can see in person if you are lucky enough. The Telašćica bay, lake Mir, and cliffs Stene are the top places to visit on the island of Dugi Otok.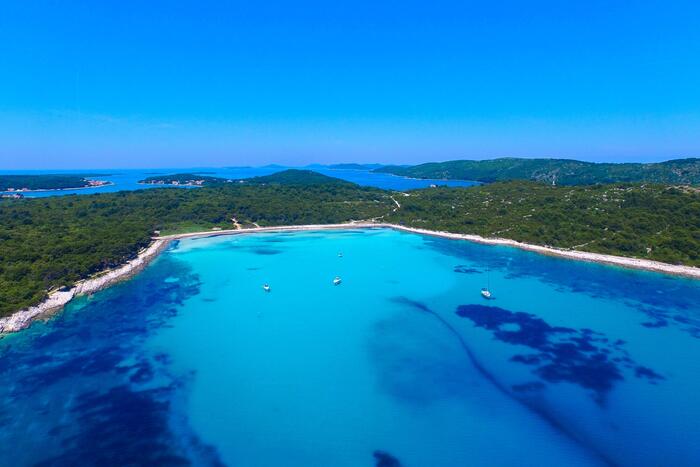 10. Sveti Ivan beach, Lubenice – Cres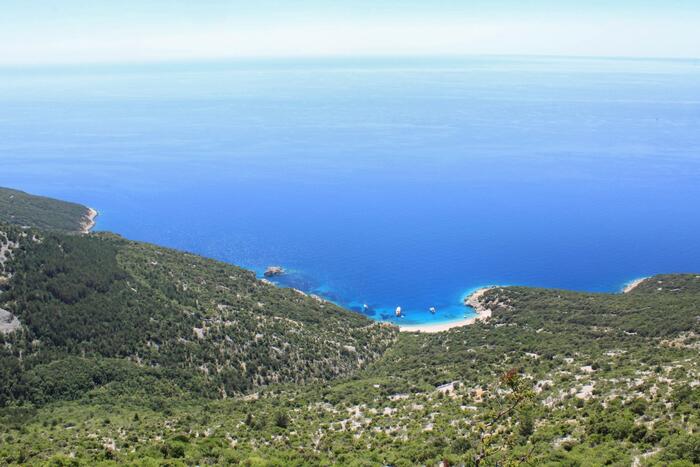 For the end, we have left you a beach that is on the bucket list of many adventurist travelers and lovers of a "Robinson Crusoe" style of vacation this summer. The Sveti Ivan (Saint Johns) beach is located underneath the 400 meters cliff in the place Lubenice on the island of Cres. The same-named beach is a true heaven on Earth for the ones who dare to explore it.


The only way to come to the beach is by sea or taking a 45-minute steep walk to the beach. This place with just 20 locals is older than 4000 years and has a rich history with many myths and legends. Close to the Lubenice, you can find 4 churches, and near it is the place Osor that connects Cres and Lošinj. That is why so many people from both islands try to conquer the beach and enjoy the very best Lubenice has to offer. Just don't forget to bring your food and water, and book accommodation on Lubenice right away!

Once you arrive at the beach, you will understand what a natural work of art looks like. The beach, sea, and surroundings look like a movie set on, so taking a one-day adventure trip to Lubenice is a unique and unforgettable experience. Many European magazines choose this beach every year on their "top beaches" list. And that list would be even bigger if more people found out and visited the beach. The natural wildness and the exclusive natural influence are the biggest advantage points of Saint John's beach.

The island of Cres is full of beaches, so while visiting Lubenice, you should try out some of the local beaches we discovered for you.



Beaches in Croatia are the biggest tourist promotor and symbolize symbiosis between the locals and their environment.

No matter if you are looking for an isolated beach underneath the trees with the most beautiful smell of Mediterranean pinewood combined with sea salt and a cooling summer breeze that will release you of all stress, or want a beach with all of the amenities you need on a 500-meter walking distance from you, this summer you will find a little piece of paradise just for yourself!

On the other hand, if you are planning on spending some quality time with your children playing in the sand, building fortresses, playing watersports and swimming, or enjoying the adrenaline activities like paragliding or windsurfing, you will for sure find everything you were looking for on some of the mentioned Croatian beaches.

While creating this top 10 list of the most beautiful hidden beaches, it was tough to choose and narrow down the choice on such a small number. Many of them we have left behind, because no matter what part of Croatia you choose, you surely won't regret it. Some beaches are world-known top destinations, while others are unexplored pearls and gems that many travelers are just starting to discover.

Because of the all mentioned, throughout the years, Croatian beaches have become the most recognizable summer brand and a tourist product! So, wind off after a hard-working day, check our list, pick your ideal beach, and join the adventure of finding this nature heaven on Earth that Croatians proudly cherish and share with the rest of the world.

And, if you find something for yourself, take a look at our rich offer of 12 000 accommodation units, with many of them located in 500 meters of the beaches. So, with little money, you can insure yourself, your family, friends, or your partner a dream vacation in Croatia in 2021!

 
Naposledy uverejnené v kategórii