Print
Published:
06/04/2018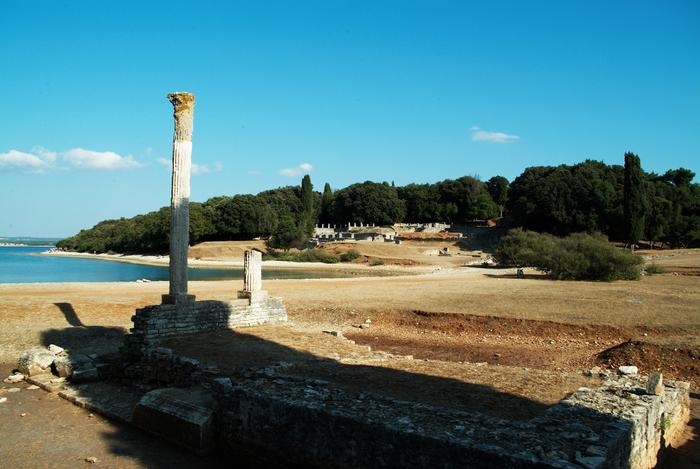 Istria, one of the most popular tourist destinations in Croatia, takes pride in its only national park – Brijuni National Park. This magnificent national park consists of 14 islands and it is located only a 15 min boat ride away from the ancient city of Pula.
It is its diverse cultural and historic heritage that makes Brijuni an amazing place to visit, and to keep in your memories forever.

How to get to Brijuni?

The fastest way to get to Brijuni is from Fažana, a coastal town 8 km away from Pula.
You can take a ferry from Fažana to Brijuni. The ride will take 15 minutes. If you come by car, you can park it on the big parking lot in Fažana.

1. Fascinating historic and cultural heritage
Different conquerors ruled Brijuni. The island's rocks still hold the remains of their first conquerors – the dinosaurs. In ancient times, the Romans came to Brijuni and turned them into a perfect summer holiday residence. They also brought their olive and wine culture. The Roman houses from that time can still be found on the islands, and the most popular one is located in the Verige bay. It encompasses temples, walking paths, thermae and a fish market. The guests who want to see the remains up close can take part in a 500 m long underwater tour.

You can also visit the Kastrum fort and the remains of the early Christian church of St. Mary from the 5th century. In Kastrum you can find the remains of Roman villas, medieval settlement and benedictine abbey.
During the 20th century, an Austrian industrialist, Paul Kupelwieser, and Yugoslav president, Josip Broz Tito, left a special mark on the island. Kupelwieser was the owner of Brijuni at the very beginning of the 20th century and he built a lot of alleys and parks in the Austro-Hungarian style that still enchant the Park's visitors.

After the Second World War, Brijuni became Tito's summer residency. This is where he hosted various world famous people such as Elizabeth Taylor, Richard Burton, Indira Gandhi, Moamer Gadafi, Jaser Arafat. During Tito's time the island got its Safari Park with exotic animals he was given by world's leaders. For example, Tito got an elephant named Lanka (that still resides on the island) from Indira Gandhi.
Not long after Tito passed away, Brijuni were made a National Park. The year 1983 marks a new era in the island's history as a world famous tourist destination.

2. Impressive flora and fauna
At Brijuni National Park you will see an impressive combination of wild and untouched nature and intentional landscaping. Besides alleys and walking paths in Austro-Hungarian style, Brijuni are also home centuries old to olive and oak trees. Paul Kupelwieser, an Austrian industrialist, is the one to thank for today's look of Brijuni. He planted a lot of trees and plants that turned the island into a unique oasis of flora. There are more than 600 indigenous plants in the Park.

There are many different animals at the Park as well. Rabbits, peacocks, deer and mouflons roam freely. You might even run into them during your walking tour. Animals imported during Tito's time can also be found – the elephant Lanka, cockatoo Koki and indigenous Istrian species like the Istrian donkey, cow boškarin or Istrian sheep pramenka.

3. Active holiday
There are a lot of interesting sports and recreational activities for tourists of all ages and preferences. During pre-season and post-season, the cycling activity BicikliRAJ na Brijunima takes place. Guests can rent a bike at the park for three hours and cycle on their own. To participate in this activity, you need to send an email to izleti@np-brijuni.hr or call on the phone.

You can also rent a bike at the National Park for a whole day and take the educational cycling route to check out all the most important points on the island. There are 24 kilometers of cycling routes on the island.

Unlike in other National Parks, you can swim in most of the island's bays. We recommend taking a swim at the Verige bay where you can find the ruins of the Temple of Venus. A legend says that the person who takes a swim here will have luck in love.
You can also take a swim at the Saluga bay, a nice sand beach great for families with children.

4. Ideal for families with children
Your children will most definitely have a great time during their visit, just like you. Cycling or riding a train (in case you'll take a guided tour) is a great way to explore the island, visit the safari park or the Ethno park inside the safari where you'll see animals specific for Istria. After your tour, take a swim at one of the lovely and wild bays at the Brijuni National Park.