Print
Published:
01/09/2022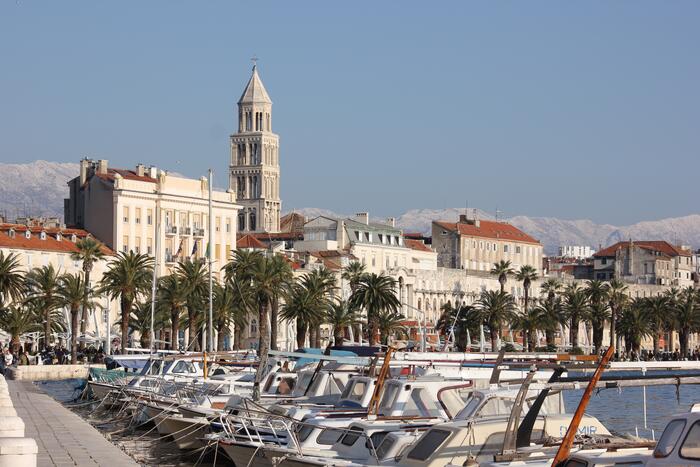 It's very easy to get lost in the ocean of guides and suggestions on the Internet on how to spend time in the largest Dalmatian city - Split. In the early days of tourism, Split played the role of a transit port where guests spent several hours waiting for a ferry to go to on one of the islands where their destination was. A few years ago, this was noticed and the potential of this Mediterranean city full of history was recognised, the demand increased, which proportionally increased the supply. Today, this city is full of activities, restaurants and urban bars. There are two categories of tourists; those who don't like to adapt too much and those who like to experience the location like a local. Today we're bringing you a guide on how to distinguish among all the touristy places the spots the locals will choose, so that you may enjoy this beautiful Mediterranean town in the best way possible.
If Dalmatians are known for something, then it's their coffee drinking talents which can take up to several hours. This is the first and main tip on how to experience Split like a local. When you go for coffee in Split, it's not just satisfying your need for caffeine, but a ritual that includes exchanging conversations, socializing with people and meeting new people. "Coffee" is just a place-holder for the Mediterranean ritual of socialization that the inhabitants of Dalmatia enjoy immensely, so keep this in mind when you pass by the Riva in Split and notice full cafes or go "for coffee" with a local, because it probably won't to be just a short meeting, and "coffee" does not necessarily have to be coffee. "Let's go for coffee" is code for socializing. Also, Riva is the main choice of bars for socializing and events in Split, and how could it not be with a view of palm trees, the sea and the islands.
Marjan forest park covers the western part of Split, and the locals like to call it the lungs of the city. It covers a large area the size of Central Park in New York, and is an unmissable place for all lovers of recreation. That isn't the only thing that the beloved Marjan offers. In order to feel like a local, you can go for a walk in the forest, but you can also stop at several scenic overlooks, swim on the beaches at the foot of the hill, or visit the chapels that have been attracting visitors for hundreds of years. We must emphasize the visit to the chapel of St. George (Jure), which was built in 1500, and you will also notice one unusual thing, which is that it comes out of stone. Marjan is loved by the people of Split and this is certainly one of the locations that every local would recommend.
 
For centuries, Matejuška was a fishermen harbor from which the inhabitants of Veli Varoš went to the sea to feed their families. Even today, dozens of boats are moored there, nets are dried, bait is prepared and sold, and nearby a monument to fishermen - a large hook - is located. Matejuška is also known for gatherings of aficionados with its smells and sounds, you will be able to see them in a good mood gathered around the grill where the catch from that day is grilled, often accompanied by song and wine. In the evenings, young locals gather where they often hang out with the sound of guitars and a good atmosphere.
The local gastronomy is rich and wide, and in Split, we can witness new restaurants popping up every year. The cuisine is based on fish, and the basis of everything is olive oil. In order to truly experience Split like a local, food is the key category. Some of the local dishes you must try are "pašticada" – beef leg marinated for several days in a sweet and sour sauce, black cuttlefish risotto, brudet and white cod. Some of the restaurants where you will have to definitely try local food are Konoba Otprilike Ovako, Konoba Fetivi, No Stress on the Pjaca, and the dishes will be best paired with some of the Croatian wines such as Malvazija, Vugava, Plavac... A place where you will drink a good cocktail and enjoy the relaxed atmosphere in the late evening hours is the bar "Misto" which also offers street food, but still adapted to the climate and gastronomic habits of the locals, where you can find pashticada, brudet or tingul in a sandwich.
The beach in the city district of the same name, which is famous not only in Split, but also in the whole of Europe. Ideal for holidays with children due to the fact that the beach is shallow up to 100 m from the shore, but also for participation in Split sports. Yes, you read that right, Split has its own sport. Picigin is a game in which there are no winners, and therefore it is difficult to talk about strict rules. The basic rules are very simple: five players in the sea ten to twenty centimeters deep (if the sea is deeper, it only slows down the game and reduces its allure) arranged in a pentagon six to seven meters apart, they add a ball (colloquially called "balun") by hitting it with their palms, making sure the ball doesn't fall into the sea.
It's well known that the secret of Mediterranean cuisine lies in fresh ingredients and variety, and we certainly suggest that you go in that direction during your vacation in Dalmatia. Next to the main street of the city, Marmontova street, you will come across Peškarija - the fish market, where you can find all kinds of fresh fish for lunch. It's a special experience where you will come across a variety of shellfish, fish and octopus. During the morning, the place is a fish market, and in the afternoon, it's washed and turned into a restaurant, so we recommend that you make sure it is early enough if you want this experience. The same applies to the fruit and vegetable market - the bazar (pazar), where, in addition to fresh food, you can also get a dose of chat, colloquially "čakula" and real Split jam (as the locals call it "šušur"). We have a short tip regarding shopping at the bazar; although it's mostly a place where old ladies sell the fruits from their fields, you will also come across stalls where you can buy not so local food. Buy seasonal fruits to ensure you have fresh ingredients. You can find the first sellers as early as 6:30 AM., and they stay until approximately 2 PM.
Dalmatians are known to be tongue-in-cheek people and will often act like you already know each other. Sometimes they talk loudly, which makes it seem like a lively discussion is going on, when in fact the atmosphere is more than positive. Emotions are expressed freely and you will read them very easily from the Dalmatian's face, so don't be surprised if people approach you nonchalantly and sympathetically. Relax and enjoy the Mediterranean and its people.
Due to its long and rich history, Split can boast of substantial museums and a cultural scene. The city's largest cultural institution is the Museum of the City of Split, which manages the work of the museum itself, the Diocletian's Cellars, the Emanuel Vidović Gallery, the Southeast Tower, the Venetian Tower and the Ophod. Since the beginning of the second half of the 20th century, the Museum itself has been located in the area of the Gothic-Renaissance Palace Papalić, and in it you can visit the collection of sculptures, weapons, furniture, paintings and many others. In addition to the city museum itself, we suggest a visit to the Archaeological Museum and the Meštrović Gallery.
Dalmatia has a rich and long musical tradition. The music is typically Mediterranean and often strongly resembles coastal Italian, Spanish or Portuguese music in temperament and structure. What distinguishes it from them are exclusively vocally sung (a capella) songs, which are sung by ensembles of five to eight male members - "klape". Music in Dalmatia is of great importance, no "festival" is complete without it, so we recommend that you indulge yourself. There is one place in Split with perfect acoustics and atmosphere for clappers, and that is the Vestibul. Formerly an atrium, today a fascinating place with a circular opening at the top makes an ideal place for the atmosphere and listening to Dalmatian klapa songs.
What siesta is to the Spanish, dolce far niente to the Italians, it's fjaka to the Dalmatians. In continental Croatia, they often call Dalmatians lazy, but fjaka has nothing to do with laziness. Fjaka is much more than that, and we could best explain it with the definition "fjaka is a psychophysical state with an insatiable desire for nothing". That's exactly what it is. Although, some think it's associated with the summer heat or time to rest after lunch, it isn't only. It's a special state of mind that you will understand only when you come to Croatia and spend a few days in Dalmatia.
Split and its inhabitants have a unique nature, but are ideal for a vacation. The Mediterranean approach to life is relaxed and unhurried, just what everyone needs on vacation. It isn't difficult to get used to such a life, so we think that you won't have a problem adapting to this climate. Our biggest advice is to relax, put on your sunglasses and get to know the culture of Dalmatia through the afternoon fjaka.