Brandstof vergoeding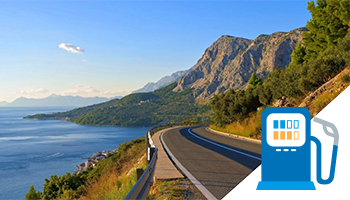 Klanten die vorig jaar een reservering bevestigd en benut hebben uit het aanbod Prive Accommodatie van Adriatic.hr-a en zijn van plan dit nog een keer te doen dan kunt u op uw nieuwe reservering besparen met de benzine kosten vergoeding – bespaar tot 100% van de benzine kosten.
The maximum amount of one full gas tank, filled during your vacation time in 2022 in Croatia is 100 €. The same amount will be refunded by a booking discount for private accommodation booked for 2023.
Hoe sneller u uw accommodatie boekt voor 2023., hoe groter de korting:
book private accommodation from our offer by 31-12-22 and you will get 100% fuel cost refund
book private accommodation from our offer by 31-03-23 and you will get 50% fuel cost refund
This discount can be used exclusively with our special ''Highway toll reimbursement'' offer.
The offer can be used by guests who made a booking in the previous and current year, with a minimum booking amount of 900 €.
Get more info on terms and conditions of "Fuel cost refund" offer: Voorwaarden