Print
Published:
20/02/2017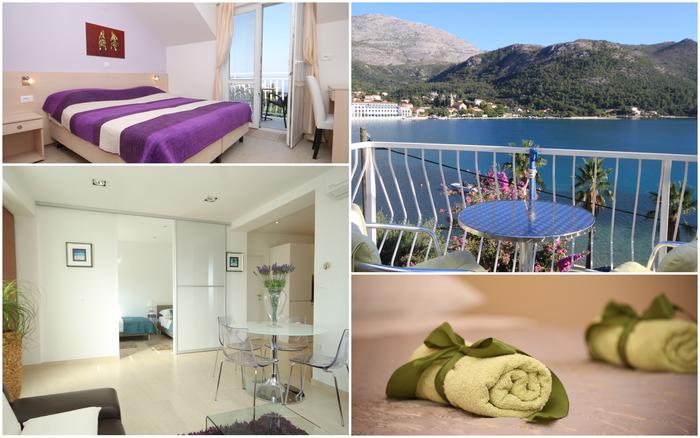 If you are traveling to Croatia for the first time, or if you cannot decide where and what kind of accommodation to choose on Adriatic, maybe we can help you out. We have gathered a list of the most wanted holiday apartments and houses by their popularity.

In our offer you can find more than 12 000 apartments, rooms and houses for a vacation along Croatian side of Adriatic coast. Top 10 highlighted apartments are the fast selling and most wanted examples, mostly booked in last 12 months. We recommend for you to read our guest's reviews, and check out their experiences with our accommodation, as well.
1. Istria - Two bedroom apartment with terrace and a sea view is located in the house, only 750 meters away from the beach in beautiful Fažana - a small town surrounded by forest and sandy beaches. Also it's worth mentioning that Fažana is located nearby the National Park Brijuni (island). In front of the house guests can enjoy 200 m2 shared garden, decorated with flowers and a small orchard. Pets are allowed!

- One bedroom apartment with terrace (Rabac, near Labin) is a top pick if you are looking for an affordable accommodation in beautiful Istira, suitable for families with children. Air conditioned apartment with a free Wi-Fi access is only 450 meters away from the beach, and within its micro surrounding you can find a grocery store, pharmacy, ATM and other services.

2. Kvarner - Three bedroom apartment with terrace located in Vantačići, a small place on island Krk is ideal for big groups. We would like to highlight a free parking space and 400 m2 garden where you can relax after a long day on a nearby beach. So don't forget, only 370 meters separates you from the sea and closest beach that you can run to after breakfast.

- Another favorite house that guests book is the one with a Two & Three bedroom apartment, located near beach on the island of Pag! If you wonder why they are so popular, just a thought that the house is located only 10 meters from a sandy beach might be the answer you are looking for.

3. North Dalmatia - Cove Kobiljak on island Pašman is a home of a two bedroom house for six guests located only 15 meters from the beach. Spacious courtyard, sea view from the terrace, and a boat available upon request are the things which attract our guests the most. We recommend for you to take advantage of a boat ride and float away up to the island of Pašman.

- The next house which usually tends to sell out until early Spring is located in Kali on island Ugljan, and it offers a two bedroom and a one bedroom apartment. Both of them have a stunning view on a close by beach, which is located only 20 meters from the house! For free, you can use the sun shadows, deck chairs and boat mooring.
4. Central Dalmatia- The following two bedroom apartments are located only 5 meters from the sea side. The house is located in Seget Donji, a small place nearby historic and famous town Trogir. The apartments are highly wanted, not only because of their excellent price range during the whole year, including high season, but also for offering a free Wi-Fi and a parking lot.

- Two apartments with a terrace and a sea view on island Čiovo accept pets, located 80 meters from the sea, and their price is highly affordable including July and August! Don't wait too long, because it tends to sell out fast.
5. South Dalmatia - Just take a look at the location of our next house located on peninsula Pelješac. The picture speaks more than words, but let us tell you - you might just jump in the sea, straight from your bed. In this offer there are three apartments, with various capacity. Free Wi-Fi, air condition and a parking space, all included in the price. So if you are quick and lucky enough, you might just find something suitable for you and your friends and family. This is a truly special place for everyone who enjoys a peaceful vacation.

- Two bedroom apartment by the beach is our last pick, and it's located in Slano, near the another historic town - famous town Dubrovnik. With only 10 meters from the sea, stunning sea view from the balcony is the main reason why this property is selling fast.